FROM SCIENCE SALON # 5
Does the Universe Just Go On Forever?
This Moment is from Science Salon # 5, with Dr. janna Levin: Gravitational Waves, Black Holes and the Nature of the Cosmos, which you can watch for free online.
Based on her new book, Black Hole Blues and Other Songs from Outer Space, astrophysicist and award-winning writer Dr. Janna Levin tells the epic story of the scientific campaign to record gravitational waves—the holy grail of modern cosmology.
Stay informed and get more free science and skepticism video content by subscribing to Skeptic's YouTube Channel.
SCIENTIFIC AMERICAN "SKEPTIC" COLUMN FOR JULY 2017
Who Are You? Memories, Points of View and the Self
The Discovery is a 2017 Netflix film in which Robert Redford plays a scientist who proves that the afterlife is real. "Once the body dies, some part of our consciousness leaves us and travels to a new plane," the scientist explains, evidenced by his machine that measures, as another character puts it, "brain wavelengths on a subatomic level leaving the body after death."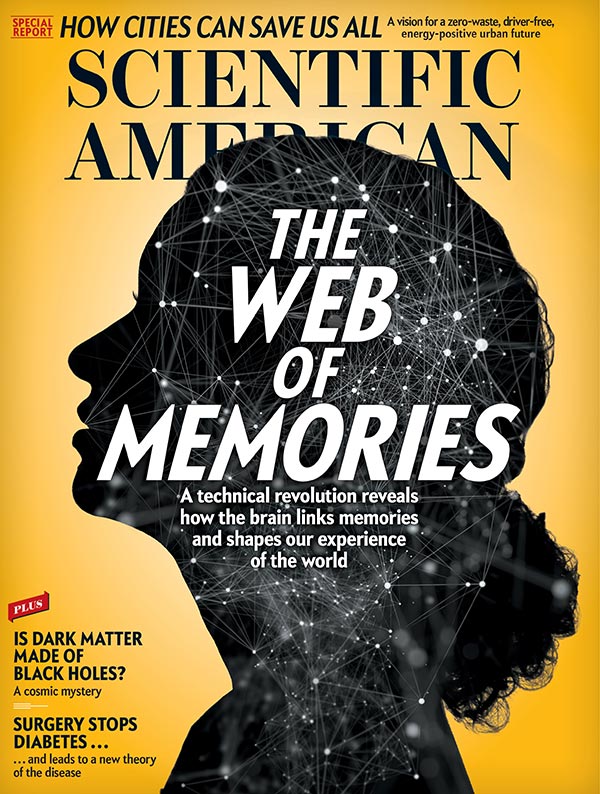 This idea is not too far afield from a real theory called quantum consciousness, proffered by a wide range of people, from physicist Roger Penrose to physician Deepak Chopra. Some versions hold that our mind is not strictly the product of our brain and that consciousness exists separately from material substance, so the death of your physical body is not the end of your conscious existence. Because this is the topic of my next book, Heavens on Earth: The Scientific Search for the Afterlife, Immortality, and Utopia (Henry Holt, 2018), the film triggered a number of problems I have identified with all such concepts, both scientific and religious.
First, there is the assumption that our identity is located in our memories, which are presumed to be permanently recorded in the brain: if they could be copied and pasted into a computer or duplicated and implanted into a resurrected body or soul, we would be restored. But that is not how memory works. Memory is not like a DVR that can play back the past on a screen in your mind. Memory is a continually edited and fluid process that utterly depends on the neurons in your brain being functional. It is true that when you go to sleep and wake up the next morning or go under anesthesia for surgery and come back hours later, your memories return, as they do even after socalled profound hypothermia and circulatory arrest. Under this procedure, a patient's brain is cooled to as low as 50 degrees Fahrenheit, which causes electrical activity in neurons to stop—suggesting that long-term memories are stored statically. But that cannot happen if your brain dies. That is why CPR has to be done so soon after a heart attack or drowning because if the brain is starved of oxygen-rich blood, the neurons die, along with the memories stored therein. […]
Naming Monsters

MONSTERTALK EPISODE 131
What's in a name? More than you might imagine, if you're a scientist trying to officially name a new species. In this episode of MonsterTalk, we talk to Ichthyologist Ben Frable about the process (and many challenges) of scientifically identifying and naming new species.
Get the MonsterTalk Podcast App and enjoy the science show about monsters on your handheld devices! Available for iOS, Android, and Windows. Subscribe to MonsterTalk for free on iTunes.